About She
SG Her Empowerment ("SHE") is an independent non-profit organisation, with Institution of Public Character status, that strives to empower girls and women through community engagements and partnerships.
We engage with the community
SHE engages with and listens to women and men across the community, and from all age groups and walks of life.
We are data-driven
SHE facilitates research and gathers data to clearly frame the issues and identify needs, in order to take an evidence-backed approach to shape impactful strategies.
We connect and collaborate
SHE collaborates with community stakeholders from different interest groups, civil society organisations, corporates, and the Government.
We advocate change
Through these efforts, SHE advocates positive change and champions a more equal society.
ENGAGE
Real change begins with honest conversations. We facilitate ongoing candid dialogues to identify issues impacting the advancement of girls and women.
We take an inclusive approach to achieving our goals, and engage women and men across the community and from all age groups and walks of life.
Got a minute? We want to hear from you! Participate in our latest online poll.
RESEARCH AND DATA
SHE is data-driven and evidence-based.
We facilitate research and gather data to clearly frame the issues and identify needs, in order to shape impactful strategies.
Effective change requires sensitivity to cultural nuances and community values. The improvements we advocate keep this in mind, thereby creating impact designed for our society.
CONNECT AND COLLABORATE
SHE works in partnership.
Meaningful partnerships are key to transformative change.
SHE collaborates with community stakeholders from different interest groups, civil society organisations, corporates and the Government.

Leadership

Our story
SHE's mission is to work with the community, partner organisations, and government agencies to identify opportunities to empower girls, energise youth, and advocate positive change for the entire community.
Inspired by the work of the Sunlight Alliance for Action to tackle online harms, especially those targeted at women and girls ("Sunlight AfA"), SHE was founded by lawyer Stefanie Yuen Thio when she saw the need for a community effort to tackle emerging new issues for women, including online harms. Her decision was rooted in the Sunlight AfA findings that online harms are an urgent issue, yet many victims do not know how to seek help and therefore do not report incidents of harm.
Stefanie, together with other members of the AfA who eventually became SHE's founding team, decided to take on the task of combatting this growing scourge. The first key initiative was the setting up of SHECARES@SCWO, a support centre for targets of online harms that focuses on girls and women.
It was also clear to the SHE founding team that there are many other issues faced by girls and women, which require attention. For example, women are still severely under-represented in the C-suite and in other leadership positions in Singapore, they continue to bear the brunt of caregiving duties in the family, and they struggle to balance their school, work, and home-life commitments. In looking to address these issues, SHE will also take into account the findings from the 2022 White Paper on Singapore Women's Development.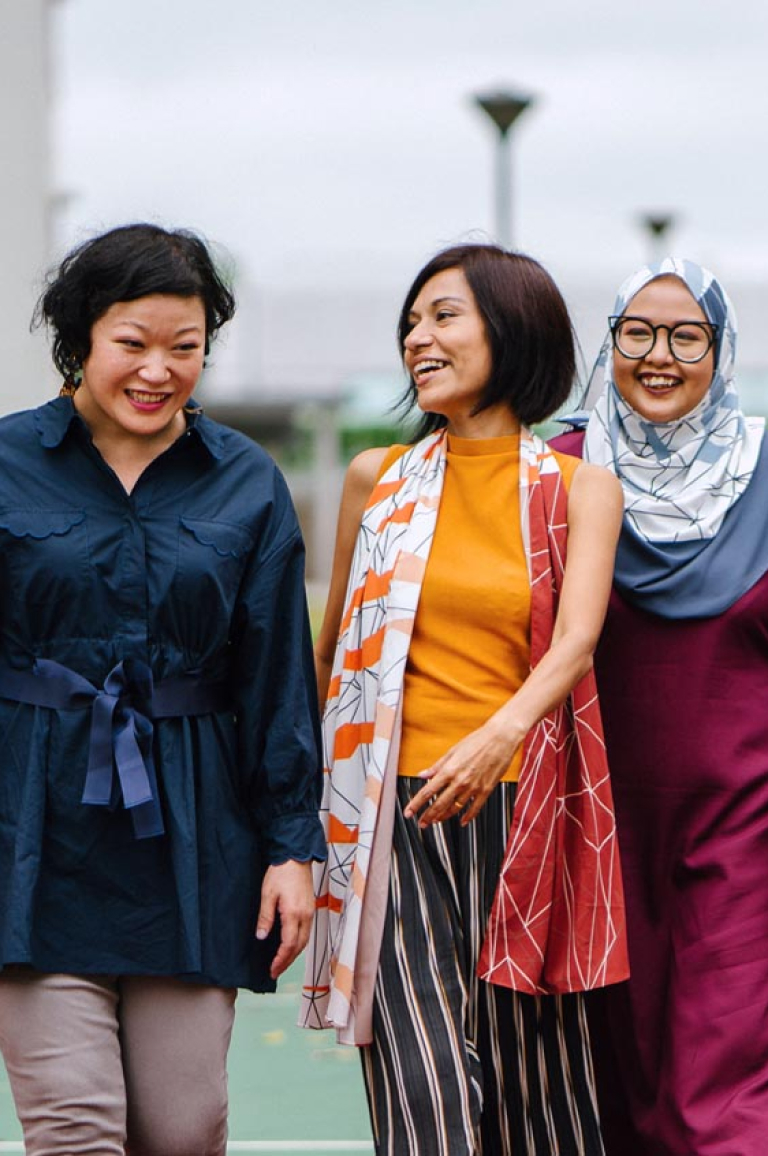 Naveen Sasidaran
Board Member
Naveen has been a partner with RSM Singapore since September 2020, where he is responsible for auditing a diverse clientele, including publicly-listed organisations, privately-held organisations, multinationals, emerging businesses, as well as non-profit organisations.
He began his career with PwC in Singapore where he spent 14 years providing assurance and advisory services to clients in a variety of sectors. His experience there included an overseas secondment with PwC in London, as well as stints with the Deals team and the IFRS Specialist team in PwC Singapore. Naveen also led the audit data analytics practice in PwC Singapore, aimed at driving efficiency and quality in audits through the use of data-enabled audit techniques. 
Subsequent to leaving PwC, Naveen spent over a year as an internal auditor with Changi Airport Group, where he was responsible to drive transformation within internal audit, embracing new technologies and skillsets to move towards a more real-time and continuous auditing approach.  
Naveen also serves on the Board of SUN-DAC, a charitable organisation that serves the differently-abled and Jurong Health Fund, a grant making organisation that seeks to improve medical and health-related services through funding patients, community care, education, quality improvement and research projects.
Naveen is married with two young sons, and enjoys travelling and outdoor sports.