About She
SG Her Empowerment ("SHE") is an independent non-profit organisation, with Institution of Public Character status, that strives to empower girls and women through community engagements and partnerships.
We engage with the community
SHE engages with and listens to women and men across the community, and from all age groups and walks of life.
We are data-driven
SHE facilitates research and gathers data to clearly frame the issues and identify needs, in order to take an evidence-backed approach to shape impactful strategies.
We connect and collaborate
SHE collaborates with community stakeholders from different interest groups, civil society organisations, corporates, and the Government.
We advocate change
Through these efforts, SHE advocates positive change and champions a more equal society.
ENGAGE
Real change begins with honest conversations. We facilitate ongoing candid dialogues to identify issues impacting the advancement of girls and women.
We take an inclusive approach to achieving our goals, and engage women and men across the community and from all age groups and walks of life.
Got a minute? We want to hear from you! Participate in our latest online poll.
RESEARCH AND DATA
SHE is data-driven and evidence-based.
We facilitate research and gather data to clearly frame the issues and identify needs, in order to shape impactful strategies.
Effective change requires sensitivity to cultural nuances and community values. The improvements we advocate keep this in mind, thereby creating impact designed for our society.
CONNECT AND COLLABORATE
SHE works in partnership.
Meaningful partnerships are key to transformative change.
SHE collaborates with community stakeholders from different interest groups, civil society organisations, corporates and the Government.

Leadership

Our story
SHE's mission is to work with the community, partner organisations, and government agencies to identify opportunities to empower girls, energise youth, and advocate positive change for the entire community.
Inspired by the work of the Sunlight Alliance for Action to tackle online harms, especially those targeted at women and girls ("Sunlight AfA"), SHE was founded by lawyer Stefanie Yuen Thio when she saw the need for a community effort to tackle emerging new issues for women, including online harms. Her decision was rooted in the Sunlight AfA findings that online harms are an urgent issue, yet many victims do not know how to seek help and therefore do not report incidents of harm.
Stefanie, together with other members of the AfA who eventually became SHE's founding team, decided to take on the task of combatting this growing scourge. The first key initiative was the setting up of SHECARES@SCWO, a support centre for targets of online harms that focuses on girls and women.
It was also clear to the SHE founding team that there are many other issues faced by girls and women, which require attention. For example, women are still severely under-represented in the C-suite and in other leadership positions in Singapore, they continue to bear the brunt of caregiving duties in the family, and they struggle to balance their school, work, and home-life commitments. In looking to address these issues, SHE will also take into account the findings from the 2022 White Paper on Singapore Women's Development.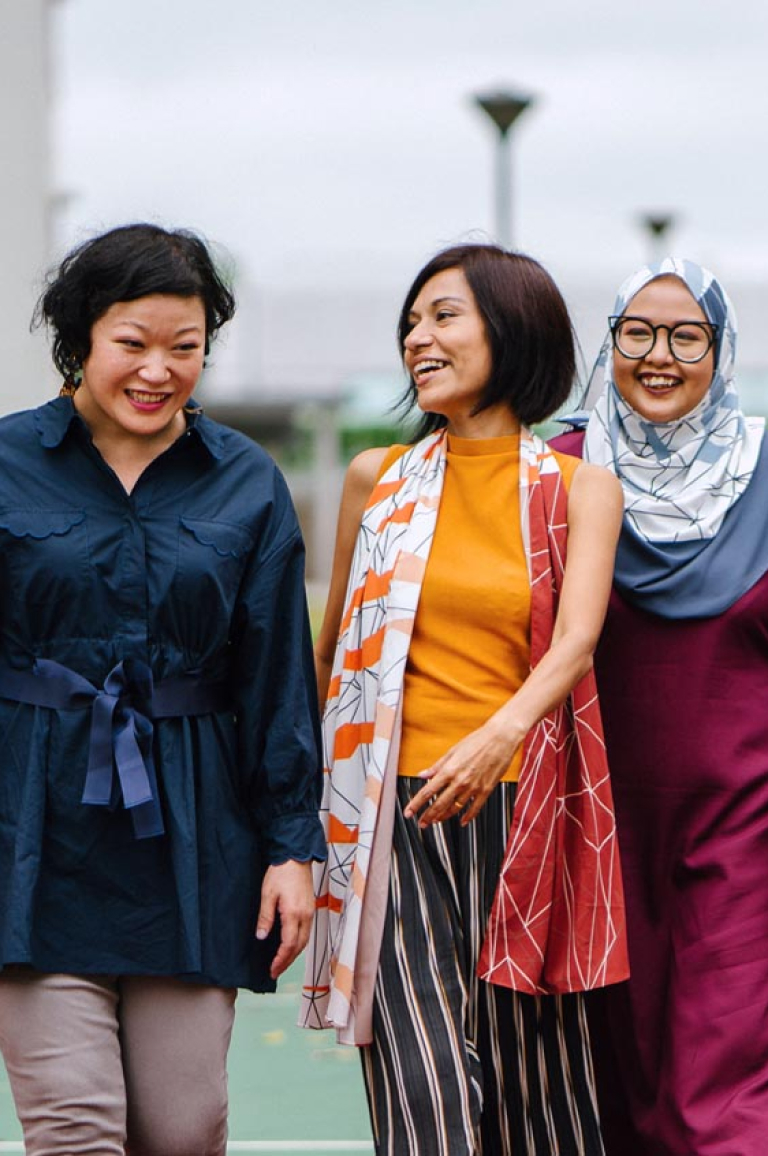 Judy Lee
Board Member
Judy is currently the Managing Director of Dragonfly LLC, an international risk advisory firm based in New York. Concurrently, she is CEO of Dragonfly Capital Ventures LLC and Managing Director of Dragonfly Advisors Pte. Ltd.
Prior to Dragonfly, she was a partner at Capco, a global financial services solutions firm and earlier at Capital Market Risk Advisors, a strategy and risk management consulting firm. Before that she was a principal at Bankers Trust New York.
Judy is currently a director of Commercial Bank of Ceylon PLC, SMRT Corporation Ltd, Strides DST Pte. Ltd. (a SMRT JV company), JTC Corporation, Temasek Lifesciences Accelerator Pte. Ltd., Mapletree Logistics Trust Management Ltd. (the Manager of Mapletree Logistics Trust) and as a member of the MAS – Corporate Governance Advisory Committee. She also served as a member of the Executive Board of the Stern School of Business, New York University, as well as Vice President of Break Some Glass, Inc., WomenExecs on Boards. Judy previously serves as Board Director of Solar Frontier, a renewable energy subsidiary of Showa Shell Sekiyu, now Idemitsu.
Judy holds a Bachelor of Science in Finance & International Business from NYU Stern Business School, and a Master of Business Administration from The Wharton School of the University of Pennsylvania. She also attended the Advanced Management Programme as well as the Women on Boards Programme at the Harvard Business School.